Nutzfahrzeuge bis 3,5t & bis 7,5t

Diese Nutzfahrzeuge eignen sich hervorragend für den Räumeinsatz bei viel Schnee und großen Flächen!  Welche Pflüge letztlich verbaut werden können, hängt von der jeweiligen Karosserie- und Fahrwerksvariante ab, jedoch machen nur Schilde von mindestens 230cm Breite Sinn.
Auch hier sind (bis bei den US-Trucks/-PickUps) keine fahrzeugspezifischen Anbausätze verfügbar, allerdings ist der Einbau aufgrund der Rahmenkonstruktion meist einfacher als bei normalen Geländewagen.
Bei den Streuern bieten sich bei Pritschenfahrzeugen natürlich die Aufbaustreuer an, die durchaus beachtliche Volumen fassen können. Natürlich können insbesondere bei geschlossenen Karosserievarianten auch Heckanbaustreuer verbaut werden.
Fuso Canter als Winterdienstfahrzeug
Auch der Fuso Canter ist als Kipper und mit unterschiedlichen Gewichtsklassen ein sehr vielseitig nutzbares Fahrzeug und mit der entsprechenden Winterdienstausstattung auch im Winter ein starkes Arbeitsgerät. Folgende Bilder zeigen einen 3,5t Fuso Canter mit einem THE BOSS HTX V-Pflug mit 230cm Breite sowie einem HILLTIP IceStriker 550 Aufbaustreuer.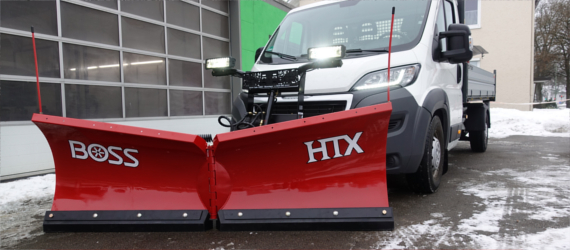 Schneepflug-Varianten
THE BOSS HTX 230cm gerades Schild (optional mit Nivellierung)
THE BOSS HTX 230cm V-Pflug
THE BOSS Power V-DXT 250cm, 280cm oder 305cm (nur für über 3,5t zul. GGW!)
THE BOSS Trip Edge SuperDuty 245cm oder 275cm (nur für über 3,5t zul. GGW!)
Streuer-Varianten
SaltDogg SHPE750          570 L
THE BOSS VBX4500         300 L + 300 L
Hilltip IceStriker 550        630 L
SaltDogg SHPE1000        700 L
Hilltip IceStriker 850        880 L
LEHNER POLARO XL        550 L  + 250 L
Hilltip IceStriker 1100      1100 L
SaltDogg SHPE1500         1,2 cbm
Hilltip IceStriker 1600       1,6 cbm
THE BOSS VBX8000         1,5 cbm
SaltDogg SHPE2000         1,5 cbm
Hilltip IceStriker 2100       2,1 cbm
SaltDogg SHPE3000         2,2 cbm
Hilltip IceStriker 2600       2,6 cbm
SaltDogg SHPE4000         3 cbm
Ihr persönliches Angebot erhalten Sie gerne auf Anfrage!